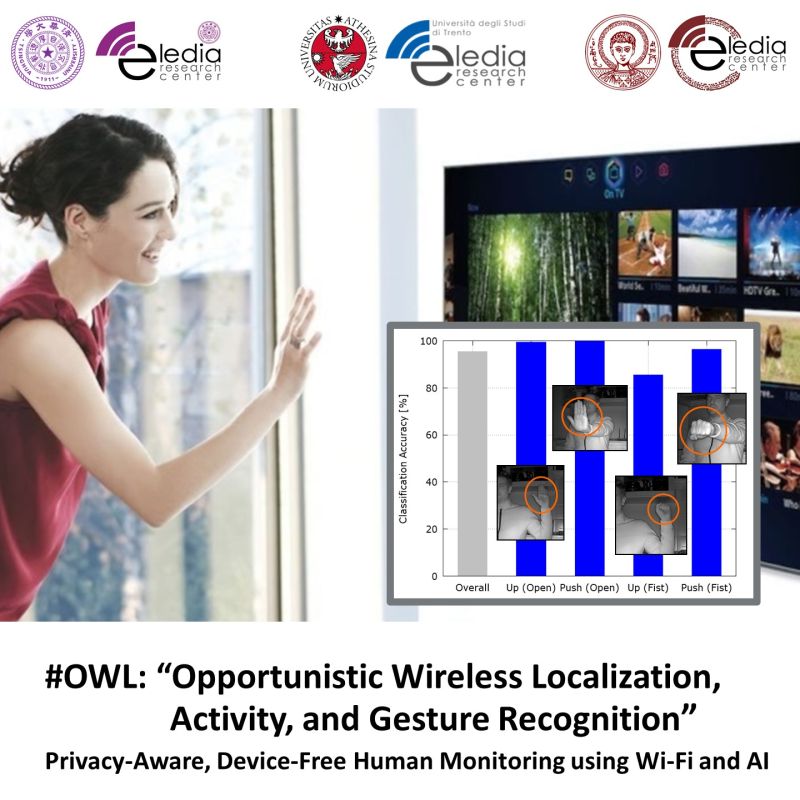 The ELEDIA Research Center is pleased to present the research project #OWL. The "Opportunistic Wireless Localization" (OWL) research project provides a simple, scalable, and privacy-aware technology for #indoorlocalization and #humanactivity#monitoring.
#Humanmachine interaction systems based on computer vision suffer from privacy concerns and low-light/far-distance conditions, but #wirelesssensing solutions can overcome such challenges.
OWL recognizes users' activities (#location, #posture, #gesture) by exploiting the existing Wi-Fi infrastructure, without the need of any sensor on the user, neither dedicated hardware. The methodology developed at #ELEDIA is based on #MIMO#EM signals sensing and #machine#learning.
See more at: https://lnkd.in/e6NQmcQ3
The research activity is carried out by #ELEDIA@UniTN (Università di Trento), #ELEDIA@TSINGHUA (Tsinghua University), and #ELEDIA@AUTH (Aristotle University of Thessaloniki (AUTH)).
—
#ELEDIA ELEDIA Research Center #wireless #sensing #WiFi #CSI #gesture #recognition #hand #tracking #privacy