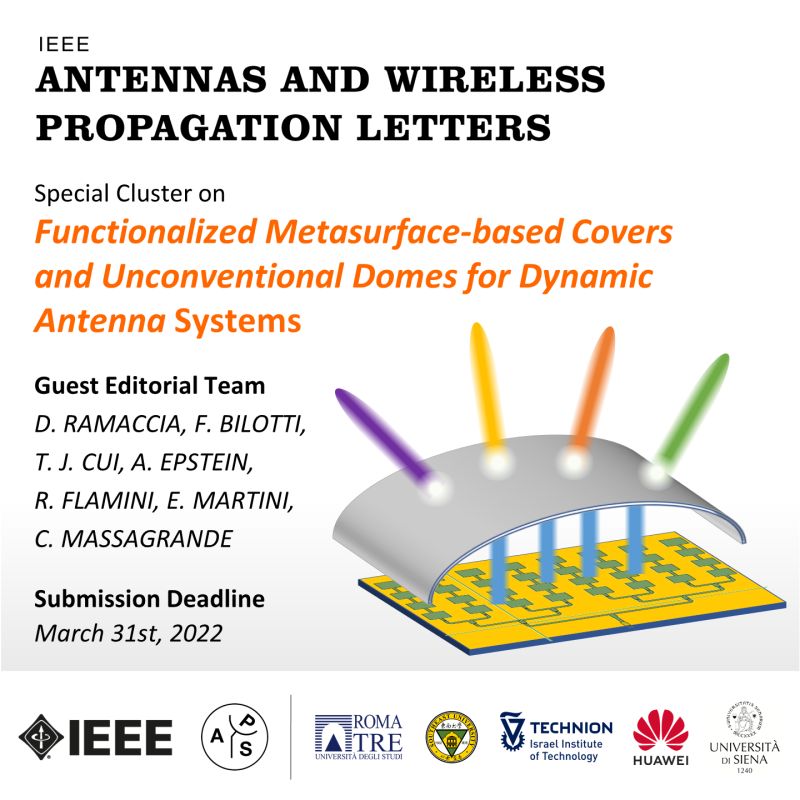 The #ELEDIA Research Center is pleased to announce the IEEE#AWPL Special Cluster 2022 on " Functionalized metasurface-based covers and unconventional domes for dynamic antenna systems", guest edited by Davide Ramaccia, Filiberto Bilotti, Tie Jun Cui, Ariel Epstein, Roberto Flamini, Enrica Martini, and Claudio Massagrande.
Contributions are sought for, but not limited to, the following:
• EM modelling for analyzing antenna domes based on artificial dielectrics and metasurfaces;
• Analysis of coupling effects between radiators and unconventional or metasurface-based covers;
• New methods and advanced implementations of metasurface-based antenna covers for field manipulation;
• Analysis and/or design of domes enabling non-reciprocal antenna response;
• Domes for the reduction of the scan blindness effect in wide scanning angular antenna arrays;
• Unconventional domes for suppression of grating lobes in sparse antenna arrays;
• Domes/Antenna cover for implementing selective angular transmission;
• Unconventional dome for beamforming or obtaining programmable shape beams and waveforms.
The submission #deadline is set to March 31st, 2022.
More information at: https://lnkd.in/gwee_mkg
—
#antennas #propagation #awpl #metamaterials #metasurfaces #EMmodeling #design #domes #technology #research Università degli studi Roma TRE Southeast University Technion – Israel Institute of Technology Università degli Studi di Siena